Security System Trends 2021 – Businesses
The physical security system trends have evolved drastically since the arrival of the pandemic. The way businesses and homeowners view security has shifted substantially. The prevalence of remote work, increasing cybersecurity awareness, and new workplace layouts are all influencing the way businesses are approaching security throughout 2021 and beyond. TXP Security, a security systems company, shares the top security trends dominating the world in 2021.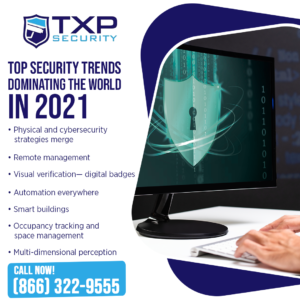 1. Physical and cybersecurity strategies merge
Cybersecurity is the practice of defending computers, servers, mobile devices, electronic systems, networks, and data from malicious attacks. With a constant flow of information between a scattered team working, cybersecurity has become the biggest concern in 2021. Although cybersecurity is crucial for asset protection and to prevent a data breach, most of these security concerns emerge from outside an organization or due to a physical security breach. Therefore a combination of cybersecurity strategies and innovative physical security systems such as access control, video surveillance, and real-time monitoring, offers a holistic security solution to organizations.
For enterprises with multiple locations, a centralized security hub would help monitor all sites simultaneously and provide detailed activity logs for auditing and compliance purposes.
2. Remote management
With work from home or hybrid work style becoming a way of life, remote management of the entire security system has become one of the most prevalent trends in 2021. There are several ways in which security systems have evolved to accommodate remote management:
Cloud-based security: This technology enables security teams to remotely access and control property by unlocking doors or triggering site lockdowns. The ability to address security issues in real-time enables swifter responses and reduces the extent of the security breach.
Instant credentialing: To accommodate changes in staffing, a keyless door lock and entry system allows users to unlock the door with credentials issued to their smartphones. Similarly, access can be revoked remotely to maintain building security.
Centralization: A single interface can remotely manage the security at every site, zone, and building. This is a growing physical security trend for organizations that aspire to increase ROI with less investment for their multiple sites.
3. Visual verification— digital badges
Mobile-based ID on cloud-based management platforms is another important 2021 trend for physical security. Mobile credentials are inherently convenient and easy to use due to the secure, encrypted nature of a smartphone-based system. Companies are moving from traditional badges and key card door lock systems to a unified mobile credential. This touchless and keyless access, along with visual verification of a digital ID badge, is on the rise.
This system allows for customization and timely updates without the hassle of reprinting and reissuing credentials. This has eased the remote management of new hires, third-part vendors or contractors, and increased maintenance staff.
4. Automation everywhere
Automation of crucial processes can help enterprises free up resources, reduce costs, and create more sustainable practices across all levels. Workplace efficiency and productivity have been enhanced by automation that has become possible due to increased cloud-based and internet-powered systems. For instance, streamlining automation between connected building access control and security systems helps address potential issues swiftly and easily.
Choosing an open and interoperable software, hardware, and the app is crucial to complete automation. Platforms that allow open access control, video surveillance, and building management are the best options for physical security. Due diligence is required while choosing systems to zone in on options that offer the maximum number of integrations.
5. Smart buildings
Cloud-based systems have made buildings smarter. Besides scalability and functionality, the interoperability of cloud-based physical security offers flexibility. With all systems integrated and everything accessible on one interface, managing multi-site enterprises becomes easy.
With smart buildings and cloud-connected systems, testing and rolling out new physical security processes across individual sites or entire enterprises becomes a seamless experience. Additionally, the data from diverse systems can be integrated into business intelligence tools, enhancing security and building experiences.
6. Occupancy tracking and space management
The future of physical security is maintaining social distancing. Technology with built-in occupancy tracking features such as access control, video surveillance, and sensors will help businesses proactively manage their capacity. This is imperative to make employees feel safe during the pandemic. Companies envisioning a flexible or staggered shift system need to see who is accessing the office in real-time. Accompanied by tools like desk mapping and reservation software, managing shifts can become easier and safer.
The occupancy tracking tool not only is a top physical security trend in 2021, but it can also collect occupancy data that has long-term benefits. From improving space management, making better decisions regarding workplace layouts, building amenities, and determining the square footage needed to scale operations, this data provides the foundation for a proactive office management strategy. Time, money, and effort are being optimized with this tool.
7. Multi-dimensional perception
With state-of-the-art sensing technologies, enhanced edge computing, and intelligent algorithms, integrated security devices and systems can now employ multiple sensors. Heightened perception capabilities, such as radar detection, multispectral imagery, humidity, and temperature measurement, and gas pressure detection, are integrated with video cameras and systems. This integration widens the application of video cameras and systems by easing the collection and use of multi-dimensional information.
Why TXP Security?
TXP Security provides smart & scalable security solutions for homes and businesses in Dallas, Texas. From transforming property with smart automation solutions or boosting the security of spaces by installing state-of-the-art security systems, TXP Security can design and deliver highly innovative technology solutions that are easy to operate.
Improved security and access control
Customized solutions
Smart home and office automation solutions
Hassle-free, intelligent solutions
Simplified home and business security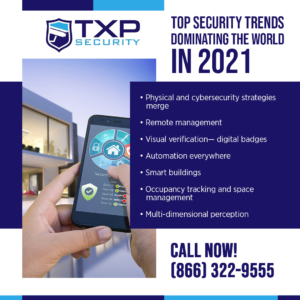 For smart home and business security solutions, call TXP Security at 866-322-9555 or email at info@txpsecurity.com
Original Source: https://txpsecurity.com/blog/