TXP Security: Busting myths about home security systems that prevent homeowners from protecting their homes
Busting six myths about home security systems
Statistics show that property crime made up 85% percent of crime in the US in 2019 and 18% of Americans reported a personal experience with property crime in 2020. Despite this, there are many myths around home security systems that discourage homeowners from armoring their homes. TXP Security, a home security systems provider, talks about the various myths and the misinformation that puts homeowners at risk of theft and burglary.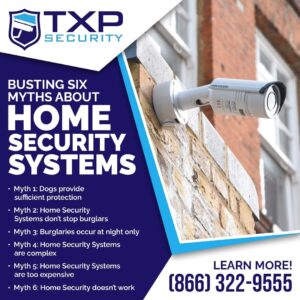 Myth 1: Dogs provide sufficient protection 
Dogs do act as deterrents to burglars, but it is not a fool-proof solution. Burglaries don't always happen at night and a barking dog during the day is likely to be ignored by neighbors. Moreover, dogs can be swayed by a treat or other tricks by a burglar.
Homeowners must also note that not all dogs are natural watchdogs and need extensive training to ensure that they play the role well. Finally, there is not much a dog can do to prevent a break-in. Therefore, completely relying on a dog, no matter how well-trained, is a sure-shot way of putting a house at risk.
Myth 2: Home Security Systems don't stop burglars
According to a study, 83% of burglars look for signs of an alarm before trying to break in, and a majority confessed they would not even attempt a burglary if they thought one was present. A home security system is the most effective defense against burglaries.
Myth 3: Burglaries occur at night only
The fact is that criminals are opportunistic and attempt burglaries when the stakes are low. The safest time for burglars to break into homes is daytime when most homeowners are away. Statistically, 60% of burglaries occur between 6 am and 6 pm on weekdays.
Myth 4: Home Security Systems are complex
A decade ago, home security systems meant cutting open walls and planting wires that run across the doors and windows to a central panel. Today, home security systems are mostly wireless, extremely user-friendly, and require minimally invasive installation. The modern systems are accompanied by mobile applications that make remote monitoring of homes very simple and convenient.
Myth 5: Home Security Systems are too expensive
The recent technological advancements have made owning a home security system more affordable than ever before. Many people think a security system is expensive when the truth is that a simple set-up from a trusted provider is more affordable than homeowners would like to believe. For monitored home alarm systems, homeowners can monitor with smartphone apps and other sensors instead of paying a security company. Wireless cameras are also reasonable and can be installed by homeowners. Home security systems are affordable and have a great value on investment considering the immense safety that they offer.
Myth 6: Home Security doesn't work
The purpose of home security systems is to deter crime by sounding the alarm. As mentioned above, burglars avoid breaking into homes with alarm systems because the surveillance cameras can help the authorities catch the thief after the crime has been committed. Home security systems not only deter crimes but also ensure that criminals are brought to justice, in case the crime does occur.
Why TXP Security?
TXP Security provides smart & scalable security solutions for homes and businesses in Dallas, Texas. From transforming property with smart automation solutions or boosting the security of spaces by installing state-of-the-art security systems, TXP Security can design and deliver highly innovative technology solutions that are easy to operate.
Improved security and access control
Customized solutions
Smart home and office automation solutions
Hassle-free, intelligent solutions
Simplified home and business security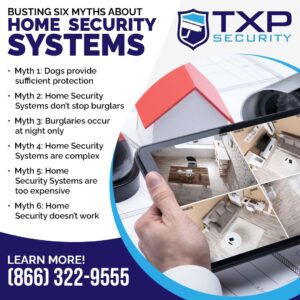 For smart home and business security solutions, call TXP Security at (866) 322-9555 or email at info@txpsecurity.com.
Contact Information:
TXP Security
Dallas, TX 75248
United States
Yair Frenkel
(866) 322-9555
https://txpsecurity.com/