What is a typical security system, and how to choose the right home security systems company?
Choose home security 
The safety of one's family takes precedence over most expenses. TXP Security, a home security system company, shares the various elements of a home security system and a few tips to help homeowners hire the right home security company.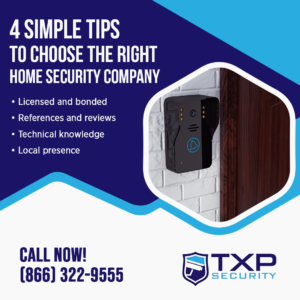 1. Entry Sensors
Security hardware may vary from system to system, but one common element in every security system is sensors. Sensors help detect movement when doors and windows are opened.
These sensors may be hidden during installation in spots that are out of sight. These sensors are in two pieces that are dormant when in contact and activate when the contact is broken when the door or window is opened.
2. Monitoring
A broken sensor is futile if it doesn't alert the homeowner or the cops. This is where security services come into play. They monitor the security system and take action when there is a breach of security. However, monitoring services may or may not be offered by the company that installed the hardware.
3. Sirens and Alarms
A siren or an alarm is what will alert a homeowner and the cops. When the sensors are tripped, the alarm or siren will make noise to attract attention unless the homeowner deactivates the alarm in time.
4. Management: Keypads, Control panels, and Apps
To manage a home alarm system, there has to be a control panel or an app to control it from. This control panel or app will allow the homeowner to switch the system on and off, deactivate it after accidental triggers, view the security camera footage, check record logs, and much more.
Most security systems install a keypad or touchscreen control panel inside the house near the main point of egress. This allows the arming and disarming of the alarm with the passcode. However, modern-day systems now offer mobile apps for smartphones and other smart devices that allow remote access to the security system.
5. Advanced: Motion Sensors, Cameras, and More
Beyond the basic sensors that all security systems offer, many other hardware can be included in a security system.
Motion sensors ensure that in the homeowner's absence, any movement is captured and reported through an alarm. Smarter devices today offer motion sensors that do not raise the alarm in a home that has moving pets.
Security cameras record and store footage of the interiors and exteriors of the house. This data can be viewed through corresponding mobile apps.
Doorbell cameras are high-tech peepholes that can be operated with apps or the system's control panel.
Other hardware devices that may be included in the security system are system-connected smoke alarms, keychain control devices, and wireless hubs that keep systems connected and functional.
6. Smart Home Connectivity
Home security systems have come very far. Wireless connections enable homeowners to stay updated through apps and remotely manage security hardware. The innovations in security offer smart home features such as turning the lights off and on remotely or adjust the thermostat.
4 simple tips for choosing the right home security company
1. Licensed and bonded
The Electronic Security Association certifies electronic security professionals. Homeowners should ideally choose companies over independent contractors as this ensures greater safety. There is no shortage of contractors who are adept at installing alarms and cameras, but they are not always licensed or possess any insurance. A licensed and bonded company or contractor ensures complete compliance with the laws and protection for the homeowners from possible risks.
2. References and reviews
References from friends and family, recommendations from members of any local chamber of commerce, or endorsements from any local law enforcement are reliable places to start from when looking for a home security system company. Online reviews on the company's website or Google places listing for customer reviews could also be of help. In case of no reviews or need for further assurance, homeowners can directly ask the company for references. An absence of or unwillingness to provide any reference is a red flag.
3. Technical knowledge
Often there is a gap between the knowledge of the salesperson selling the security system and the technical team that installs the equipment. This gap often leads to incorrect assessment of the homeowners' needs. Often the representatives are just trying to sell a predetermined package, irrespective of the needs of the home and its inhabitants. One size does not fit all. A professional and an expert in this field will ideally have some prior experience in the installation of a security system and will survey the house thoroughly to ensure that the right security system is installed. Homeowners must analyze if the representative actually understands security systems or is just making a blind sale.
4. Local presence
Home security companies with a local presence have a profound understanding of the security challenges in the locality. This ensures that the systems they suggest and install, and the services they provide are customized to the residential area in question.
Why TXP Security?
TXP Security provides smart & scalable security solutions for homes and businesses in Dallas, Texas. From transforming property with smart automation solutions or boosting the security of spaces by installing state-of-the-art security systems, TXP Security can design and deliver highly innovative technology solutions that are easy to operate.
Improved security and access control
Customized solutions
Smart home and office automation solutions
Hassle-free, intelligent solutions
Simplified home and business security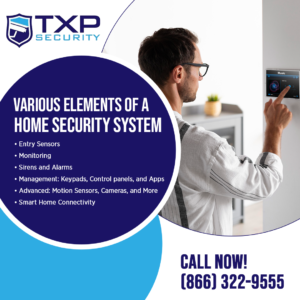 For smart home and business security solutions, call TXP Security at (866) 322-9555 or email at info@txpsecurity.com.
Original Source: https://txpsecurity.com/blog