TXP Security: What are the benefits of a home security system?
The benefits of a home security system
As home security systems fuse with home automation systems, safety, saving, and convenience have become a norm. Many homeowners hesitate to install a home security system due to a perception that the costs are not worth the trouble. TXP Security, a home security system company, explains the benefits of installing a home security system and how it is a worthwhile investment.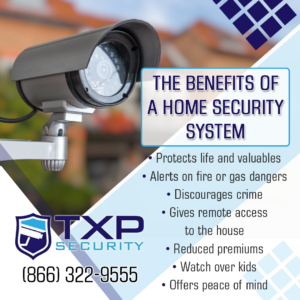 Protects life and valuables
Homeowners primarily install home security systems to protect their loved ones, their property, and its valuable contents from home invasion, fire, burglary, and other environmental disasters. The average cost of a burglary is $2400 per victim, besides the psychological cost of such a trauma. A home security system has an alarm system that scares off burglars and alerts the authorities whether homeowners are at home or not.
Discourages crime
Studies prove that an obvious sign of a home security system in a home drastically decreases the possibility of a burglary. As the number of home security systems increases in an area, the overall number of residential robberies was found to decrease as well. 83% of the burglars look for a sign of an alarm as they plan a burglary and half of them quit at the sign of one. A safer neighborhood is what results from a residential area with maximum home security systems.
Gives remote access to the house
Modern home security systems have home automation capabilities that not only allow remote monitoring of a home but assist in energy conservation. Homeowners can remotely monitor their homes via security cameras and control smart thermostats, smart keyless door locks, smart lighting, and other smart devices in every area of a home. This convenience and energy savings justify the extra cost of a security system.
Reduced premiums
A monthly fee for a holistic security system lowers a homeowner's insurance by up to 20%. Many insurance companies offer 5% to 20% off on a house insurance premium when there is a professionally monitored security system installed. In addition, a video surveillance camera helps in providing proof to file claims in case of an event. Paired with the instant alert to the authorities, investing in a home security system proves to be very lucrative for any homeowner in the long run.
Alerts on fire or gas dangers
Homeowners can now travel without a care. They can opt to receive notifications in case a smoke alarm or carbon monoxide detector goes off in their absence. Homeowners can set up the system to ensure that authorities are instantly notified of any such emergency.
Watch over kids
With home automation, parents can keep a tab over their kids remotely from work. By installing video doorbells and other security cameras, parents can monitor the movement of people in and out of the house. In fact, an electronic door lock allows parents to lock and unlock the door remotely to let someone in or keep them out of the house.
Offers peace of mind
A home security system is a line of defense for a home. It not only protects the inhabitants from burglaries and physical harm but also protects the property from natural disasters such as fire or water damage. The monitoring capabilities and the option to alert authorities allow homeowners to sleep peacefully and secure in the knowledge that their loved ones and their material wealth are safe.
Why TXP Security?
TXP Security provides smart & scalable security solutions for homes and businesses in Dallas, Texas. From transforming property with smart automation solutions or boosting the security of spaces by installing state-of-the-art security systems, TXP Security can design and deliver highly innovative technology solutions that are easy to operate.
Improved security and access control
Customized solutions
Smart home and office automation solutions
Hassle-free, intelligent solutions
Simplified home and business security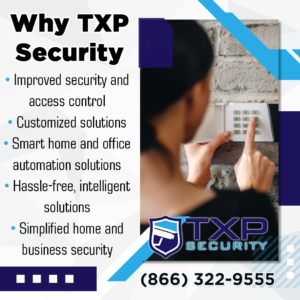 For smart home and business security solutions, call TXP Security at (866) 322-9555 or email at info@txpsecurity.com.
Contact Information:
TXP Security
Dallas, TX 75248
United States
Yair Frenkel
(866) 322-9555
https://txpsecurity.com/